Much to do before we achieve world-class rail services in Auckland
A couple of weeks ago I took the train out to Henderson to attend a Council meeting. Riding the brand new EMU as it powered quietly and smoothly along a corridor now amazingly free of graffiti and weeds, past attractive modern stations (the opening ceremonies of each I recalled attending over the past 10 years), I mused on the long struggle to get where we are today. I confess readers to feeling felt a momentary glow of pride.   But enough of that. The recollection that 90% of the complaints I receive about Auckland's public transport are about rail services soon brought me back to earth. The truth is there is still much to do before we achieve world class rail services in Auckland. Despite the brand new EMUs, on-time performance is definitely non-world class. For instance punctuality on the Eastern Line in June was a hopeless 60.9%! – and with new electric trains. This is not some technical teething problem, electric trains had been running the Eastern Line for many months at that point. And passengers and train staff complain of unacceptable levels of anti-social behaviour and fare evasion (the two go hand-in-hand). The evasion problem is largely due to the lack of station gates outside of Britomart and Newmarket to go with the 'Hop' smart cards. The lack of these gates over most of the network means in effect we are operating a voluntary payment system on our trains.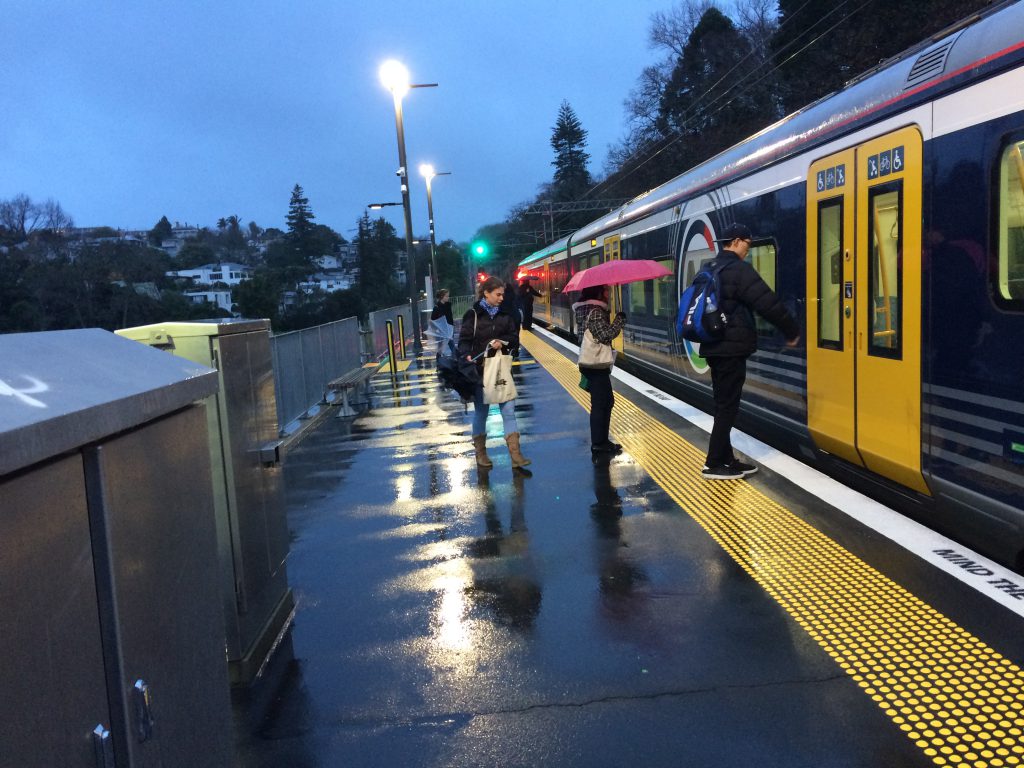 Disconcertingly, after recent time-tabling changes, rail services on the western line are running slower than they did back when Britomart first opened. We didn't really spend $1 billion on electrification to have slower services, did we?   And despite strenuous public objections, passenger services to Waitakere have been withdrawn (for the first time in over 100 years) and planned extensions to Kumeu despite the enormous growth in that area have been put on the never-never. I was recently told by a disgruntled Pukekohe train commuter of a widespread belief among her fellow passengers that the Pukekohe shuttle services have become so unreliable that Auckland Transport management must be trying to drive away customers (as some critics claimed happened with Waitakere), thus removing the need to electrify the line to Pukekohe. The conspiracy theory is baseless but sadly that's what these customers believe.   Even more serious for the long term financial sustainability and expansion of Auckland's rail services is the disproportionately high operational costs of running the network.   This year ended June it was a staggering $159m. For the previous year, June 2014 when Auckland and Wellington rail services carried almost an identical amount of people (11.5 million trips), not counting the large NZTA subsidy, Auckland ratepayers coughed up $43.3m for train services whereas Wellington ratepayers paid only $18.8m for theirs. At the same time Wellington Metro collected $43.26m in fares whereas AT managed to recover only $30.63m. This year ended June, Auckland ratepayers' contribution increased to $52m and while patronage went up by 22% to 13.9 million trips per year, revenue increased only by 16%. Auckland Councillors under pressure from the public fed up with rates increases, have called for an investigation into this, which is now underway. A contributing factor may lay in the fact that in Wellington services are a matter between the Wellington Regional Council and KiwiRail. In contrast the Super City's rail services management system is a complex, unwieldy 'too many cooks' arrangement of Transdev, KiwiRail, and of course Auckland Transport (AT) – which is demonstrably too expensive, inefficient, and allows too much room for dodging accountability. Auckland's long-suffering rail passengers and ratepayers deserve better than this. Along with the brand new electric trains, which AT promotes as 'quieter, better, smarter', we need a similar level of improvement to the way we manage our rail services, if Aucklanders are indeed to get world class public transport.
Mike Lee is the local councillor for Waitemata & Gulf ward, the chair of the Council's Infrastructure Committee and a director of Auckland Transport.  He is also a member of the Public Transport Users Association.  He writes in his role as a councillor.
A variation of this article appears in the September issue of Ponsonby News and a short version is on the NZ Herald website.