Campaign Launch
Mike Lee speech at City Vision/Labour Roskill Community Voice Campaign Launch 2010
Ladies and gentlemen, fellow candidates on your behalf I would like to thank Len for coming along today help us launch our election campaigns. Len has been on the campaign trail for over a year now – and its been a lonely fight. He's been taking fire – but winning through regardless. Len the good news for you is that the reinforcements are here and a whole army of supporters is about to take the field to join the battle.
Right now, right across the greater Auckland region, community based groups and individuals are preparing to go into battle against the monolithic C & R machine and its acolytes.
Clearly the forthcoming Super City elections are going to be the most important in Auckland's history.
Never have the stakes been higher, never have the opportunities been greater, never has the danger been graver…[more]
Sins of the Fathers – The Decline and Rise of Rail Transit in Auckland
Presented to the Urban Rail 2010 Conference in Melbourne, 5th May 2010
Auckland, New Zealand notable for its superb geographic setting on two harbours and the magnificent Hauraki Gulf is also known as 'the City of Sails'. Considered one of the finest recreational boating centres in the world, the city of nearly 1.4 million where nearly one third of New Zealanders live is also notorious for urban sprawl and chronic traffic congestion.
Auckland is also, as Melbourne academic Paul Mees has dubbed it, the 'City of Cars'. Problems with traffic congestion go back as far as most Aucklanders can remember – that is nearly sixty years. Conventional wisdom, citing Aucklanders' deep attachment to the private motor vehicle asserts 'You will never get Aucklanders out of their cars'. However this paper reveals, rather surprisingly, that up until the mid 1950s, reputedly car-loving Aucklanders were most diligent public transport users and, in terms of per capita patronage Auckland was one of the best public transport cities in the world. A curtain of collective amnesia hangs over this critical mid-century period when far reaching decisions were made by a transit-hostile central government and conservative city fathers.
These decisions, taken consciously radically altered the development and shape of the city for years to come. Auckland's move from transit to individual cars is not unique – especially in Australasia – but Auckland is one of the most extreme cases of this mid-20th century phenomenon. A trend which Melbourne successfully resisted.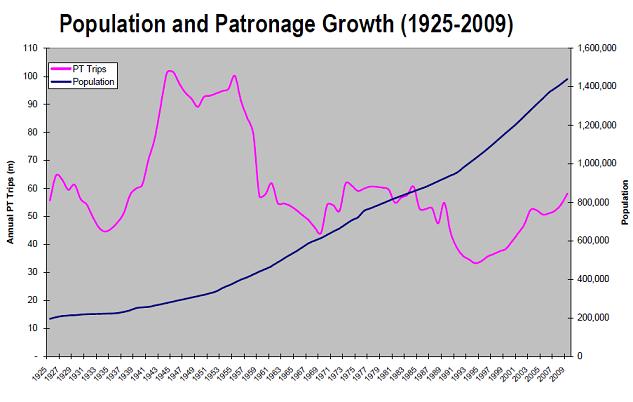 This paper will review the dramatic decline of public transport patronage in Auckland though the second half of the 20th century. The paper will conclude however on an optimistic note – reporting a significant upturn in public transport contemporaneous with growing infrastructure investment by local, regional and central governments which have enabled the beginnings of a renaissance of rail in Auckland.
Read the full paper here.
Strangers in the 21st Century
Auckland and New Zealand Politics without Bruce Jesson – a lecture on behalf of the Bruce Jesson Foundation, by Michael Lee at the Maidment Theatre, Auckland University, 6 October 2008
Taking up Bruce Jesson's books again when I began to prepare for this lecture – and reading again that clean, simple, but incisive writing style, the wry self deprecating humour and the clever use of the dialectic – reminded me how much the New Zealand political scene, had been diminished by Bruce Jesson's passing in 1999.  Interestingly it brought back to me the feeling I had when Bruce died – how to articulate this?  Many of you I guess must have experienced similar feelings yourselves.  But for me especially in terms of politics, that extra interest, that intellectual challenge, the extra spark that Bruce Jesson brought to New Zealand politics had gone for good.  And we are all the poorer for it… [more]