Trams to Auckland airport – is this really a Super idea?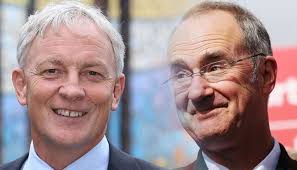 I was as intrigued as most when Transport Minister Phil Twyford announced the NZ Superannuation Fund's interest in building, owning and operating the Minister's favoured light rail project – costed provisionally at $6bn for two lines. As we know one of these will link Auckland International Airport with the central city via Dominion Road and the other will service the Minister's Te Atatu electorate, eventually extending to Kumeu. One can only conclude that the Super Fund's reported eagerness to invest in a public-private partnership (PPP) for this project means PPPs are as lucrative as their critics have long been saying – that is from the 'private' partner's perspective.   And it's that role ironically, that the Crown-owned Super Fund is evidently planning for itself. 'Privatise the profits – socialise the losses' is the name of the game. But any profit must come at the expense of the 'public' partner. That's us. The ratepayers, taxpayers, fuel tax-paying motorists and fare-paying passengers, in other words the people of Auckland – and New Zealand. But I thought the public were meant to be the beneficiaries of the NZ Superannuation Fund – not its fall guys. I trust the government is getting good advice on this proposal because the worry is that when it comes to choice of rail mode to the airport, it clearly doesn't have good advice at all. Opting for widely criticised light rail (trams) instead of heavy rail (trains) to the airport is a very high-risk call; one taken on dubious technical advice and without a business case. It also out of line with international best practice.
Getting the NZ Super Fund to build it would mean the government doubling down on a deeply-flawed strategy. Leaving to one side the tramline to Te Atatu, let's look once again at the pros and cons of light rail to the airport.   To be fair, light rail has the benefit of being a versatile and efficient form of public transport. Modern trams can service busy inner city streets like buses, ('street car' mode), but can carry much more people (11,000 per hour) and in greater comfort than diesel buses (2500 per hour). Trams are great people movers, based on frequent stops, usually conveniently spaced at 350m to 800m apart. (Ideal for the inner city and waterfront). On the other hand electric trains (EMUs) can carry even more people (48,000 per hour) and go much faster than street-running trams.   This is not just due to the superior power of EMUs, train stations tend to be spaced more widely apart, between one to three kilometres. The latest plan I have seen for a heavy rail connection from the airport via Puhinui to Britomart (journey time 30 minutes and costed at $750m) has it stopping at only two stations but providing cross platform connections to the rest of the suburban network – from Henderson to Pukekohe.   In contrast the 22.8 km airport-Dominion Road-Britomart tramline will have 18 stops. It will be at very best 15 minutes slower than the train but due to traffic conditions much less predictable. From the user's point of view (overlooked as always), weary international travellers, with their baggage, probably strap-hanging, through multiple tram stops to reach their central city hotels on a crowded tram would not be an ideal prospect. Even less so in the case of travellers, going the other way, anxious to get to the airport on time to make their flights.
When I visited Queensland's Gold Coast a couple of years' ago to inspect its brand new tramline, the managers emphasised to me one of their key 'learnings': light rail means 'mass transit' – not 'rapid transit'. This is a fundamental point for 'horses for courses' mode decisions, one that both Minister Phil Twyford and Mayor Phil Goff worryingly still don't understand.
So the key question, one that the cocksure politicians have overlooked in pushing their trophy project, is, will a slow tram journey between the central city and airport provide genuine competition to the private car and therefore combat growing traffic congestion? Because it is for this key reason, based on speed, capacity and predictability of journey time, that Melbourne which has biggest and most sophisticated light rail system in the world, will NOT be using trams for its airport connection but trains.
Phil Twyford proudly boasts his light rail scheme is 'the biggest transport project in New Zealand's history', yet it will only service a comparative handful of Auckland suburbs. Is that really the smartest use of six billion dollars of public money?
One of the most worrying aspects of this decision, besides the lack of rigour and contestable advice backing it, is the remarkable unwillingness by both Minister and Mayor to even acknowledge, let alone learn from overseas experience. This will be a hugely expensive, technically challenging project. The stakes are high. If things go wrong the fallout will not only do lasting damage to the government, but could also financially cripple the 'Super City'.
This article published in the June issues of Ponsonby News and The Hobson and also The Daily Blog.