A tale of two voyages – Endeavour and St Jean Baptiste – December 1769 – emissaries from the outside world reach northern New Zealand
Captain James Cook and the Endeavour sailed through the Auckland region, past the eastern end of Waiheke, northbound, in late November 250 years ago in his epic voyage of discovery. It was a momentous event in New Zealand history though studiously ignored by Auckland officialdom.
Putting aside the inevitable protests, what I have found disappointing about the 250th anniversary of Cook's momentous visit to New Zealand 250 years ago is the official response. Evidently for reasons of 'woke' politics our 21st century officialdom have virtually airbrushed the great man out of our history. But it wasn't just Cook and the British who first arrived here 250 years ago. If the memory of the great Cook is treated so ungenerously, what hope for acknowledgement of that other momentous event of late 1769, the arrival of the French navigator Jean de Surville and a multi-ethnic crew composed not just of Frenchmen but a veritable league of nations, including Indians, Africans, Filipinos and a Melanesian. In December 1769 emissaries from the virtually whole world arrived in New Zealand.
In one of the most remarkable coincidences in the Age of Discovery, in a voyage still very much shrouded in mystery and controversy, the French ship St Jean Baptiste, arrived off northern New Zealand in December 1769, at the very same time as Cook's Endeavour.
At 600 tons St Jean Baptiste was significantly bigger than the Endeavour (369 tons). With a multi-national crew, French (mainly Bretons), Indians and Africans she was under the command of Jean-François-Marie de Surville (1717-1770).
12 years older than Cook, Surville was a senior French India Company captain and a breveted naval officer with the rank equivalent of post captain in the British Royal Navy. In the previous wars had served as a privateer and 1758 had fought in the fleet battles against the Royal Navy off India where he had earned the coveted Croix de St Louis.
Surville's expedition had been financed by syndicate of wealthy capitalists (including himself) associated with the French India Company.
St Jean Baptiste began her voyage to the Pacific on India's sacred Ganges River. Her final port of call in India was Pondicherry where her luxury cargo was topped up before she set sail on 2 June 1769 bound on a trading voyage to the Far East.
This however was evidently a cover story for a secret mission to locate the Pacific island of 'Davis Land,' first reported in the 17th century by the English pirate Edward Davis. 'Terre Davis' or 'Ile Davis' was believed by the Pondicherry syndicate to be Wallis' newly-discovered 'King George's Island' (Tahiti), somehow rumoured to be rich in gold and populated by a wealthy 'tribe of Jews'! Wallis' discovery was a closely-guarded secret but information about it was likely leaked during the voyage home, probably in the taverns of Cape Town by carousing crew members (and perhaps by talkative officers), and so the French received intelligence about it, albeit garbled, before Wallis' Dolphin reached England.
St Jean Baptiste first called at ports and islands along the Malayan coast then crossed the South China Sea to the Batanes Islands in the northern Philippines. On 24 August to the surprise of officers and crew who thought they were bound for China, Surville ordered his ship out into the Pacific on a southeast heading into unknown seas.
Crossing the equatorial doldrums St Jean Baptiste arrived off the Solomons Islands on the 7 October, effectively rediscovering these islands 'lost' for 200 years since the time of Mendaña.[i] Here the the first signs of scurvy began to show up among the crew.
Unfortunately the Solomons turned out be a far less congenial call than the idyllic sojourn Cook's men had just enjoyed Tahiti. After being attacked by hostile islanders, with one marine speared to death and his first lieutenant Guillaume Labé wounded, and finding little refreshment, Surville resumed his voyage, heading southeast along Solomon archipelago.
On 7 November with his men starting to die of scurvy he entered the Coral Sea – the first western navigator to do so, shaping a southwest course which brought him so close to the eastern seaboard of Australia that his officers on the night watches reported they could 'smell the land'.[ii] But 'New Holland' was apparently not in Surville's secret instructions. Gaining sufficient southing to get out of the trade winds, he then turned eastward in an attempt to reach New Zealand.
St Jean Baptise and the Endeavour
Driven along by a northwesterly gale, St Jean Baptiste steered southeast then east to run down the 35th parallel towards where its crew fervently hoped would lie New Zealand.
But by now the ship's company was in an extremely bad way, with the greater part of the men sick or dying, the officers barely able to muster enough hands to work the ship.
Conditions below deck were grim. First lieutenant Labé wrote, 'Large numbers of the crew are attacked by scurvy and very discouraged by the sight of their friends dying of the same illness.' Fatalistic sailors, regardless of their medical condition, if sufficiently dispirited would often give up the ghost. Almost every day bodies of the dead, Christian, Muslim, Hindu and whatever other creed, were consigned to the deep by their shipmates after the last rites administered by the ship's chaplain Father de Villefeix. At the end of his watch, Labé entered the names of the deceased into the log, carefully drawing a cross next to their names.
As well as her people, the ship itself was worse for wear. St Jean Baptiste had now been at sea for more than six months. Most of her sails were badly worn, the rigging and cordage needed repair and as a result of a hard Tasman gale, her timbers had worked to the extent the carpenter reported she had begun to take on water. The few remaining hands strong enough to turn to had to labour at the pumps for hours at a time, a heroic effort given their physical condition.
Days passed and there was still no sign of New Zealand. On 9 December, Labé noted with grim humour, 'according to my reckoning I find myself 29 leagues inside New Zealand'. The need to find land and safe harbour was now desperate.
Finally, on Tuesday, 12 December 1769, on a calm but overcast day, late in the forenoon the long hoped-for call rang out from the masthead, 'Terre!'
Labé wrote, 'at 11.15 this morning, saw the land of New Zealand, very high…very distant'.
Breathing a prayer of thanks, Surville hurried up on deck with his spyglass:
We suddenly sighted New Zealand from the NNW to the east. The horizon was very misty which was why we took so long to see it and why we did not see more of it. The land is very high and in parts of it by the sea are sand dunes as in various parts of Africa around the Cape of Good Hope.
Cheers went up as the word quickly passed around the ship. The watch below and the invalids strong enough to, tumbled out on deck where they gathered to gaze at the new land. We can picture these men — Europeans, Indians, Africans, and the Pacific people, the Filipinos of the Batanes, and the Solomons boy — together, the first outsiders to lay eyes on the western coast of New Zealand since Tasman's crews 137 years previously. Now finding themselves at the very ends of the Earth, they stared at this mist-shrouded, semi-mythical country. Not a man among them, it can be certain, would have doubted their awful isolation. And yet, at that moment, in one of the Age of Discovery's most extraordinary coincidences, Cook's Endeavour was less than 100 miles away on the opposite coast, on a course that would mean the two ships would soon pass each other.
St Jean Baptiste had made her New Zealand landfall just to the north of the Hokianga harbour entrance. However, no sooner had they found the land they had been so desperately searching for than they were confronted with another problem — the threat of being driven onto a lee shore. Surville, wary of being embayed, turned north, but faced a dilemma — he had to stand in close enough to enable his lookouts to search out the safe harbour they desperately needed.
At the same time, Cook, on the opposite coast, was beginning to have trouble with the weather himself and making little headway as he tried to reach the distant cape which he took to be 'the northern extremity of this country'.
It would be instructive at this point to refer to a paper by the anthropologists H.M. and B.F. Leach on climatic conditions in New Zealand in late 1769. The paper noted that during this period New Zealand was affected by the global climate episode known as 'the mini ice age', which was at its most intense from 1600 to 1850. It brought cooler temperatures and unsettled summer weather. A weather report included in the paper largely reconstructed from Cook's journal reveals: 'An anticyclone persisted over the country from December 4 to 12 and this was followed by the passage of an active cold front, presumably associated with a depression in the south.'
Surville, meanwhile, mindful of what he had read of Abel Tasman's time in New Zealand as reported in Prévost's Histoire general des voyages and of his own men's harrowing experience in the Solomons, worried about what sort of reception they might get from the natives. His officers in recent days had read and reread Prévost. There was much discussion about the attack on one of Tasman's boats in which four men were killed. But a more immediate concern was with the onset of a southwesterly gale the realisation that with the passing of every hour they were being set upon the coast. Surville knew he was in a trap and had to get out. He began a set of manoeuvres to win himself sea room.
Still men were dying from scurvy. By now they had lost nearly sixty men, about 40 per cent of the ship's company. Pottier de L'Horme summed up the situation: 'Our position was fairly critical, embayed on an unknown coast, the people of which are savages of bad repute.'
Despite three days of tacking and sail settings during which crew and ship were worked to the limit, and now with a rising gale, St Jean Baptiste was still slowly but surely being driven into the surf zone. As Reef Point, loomed up before him, Surville knew he had to claw off. But to do this he would have to resort to desperate measures, requiring all his skills as a seaman.
In the end, the 'manoeuvre hardie', crowding on as much sail as possible, paid off, winning St Jean Baptiste just enough sea room to weather Reef Point. On the afternoon of Friday, 15 December with the southwesterlies moderating the crisis had passed. St Jean Baptiste was now sailing along off Ninety Mile Beach, with 'Tasman's NW Cape' (Cape Maria van Diemen) in sight and plenty of sea room. Now, however, they had reached the limit of their charts. Unwilling to sail into unknown seas in darkness, Surville stood off and on under shortened sail and waited for the dawn.
At first light Surville and his officers were relieved to see, some 30 miles off to their north the Three Kings Islands, that Tasman had named in January 1643 for the biblical Holy Magi, confirming the basic accuracy of Tasman's chart.[iii] Rounding Cape Maria van Diemen and Cape Rēinga, St Jean Baptiste sailed eastward along the top of the North Island, pushed along by a westerly swell but in moderating weather conditions. With a fresh southwesterly breeze filling her canvas, St Jean Baptiste passed Spirits Bay making for the high cape her officers could see in the distance.  Believing themselves (correctly) to be the first Europeans to sail this coast, the officers named the distant promontory for their commander, 'Cap Surville'.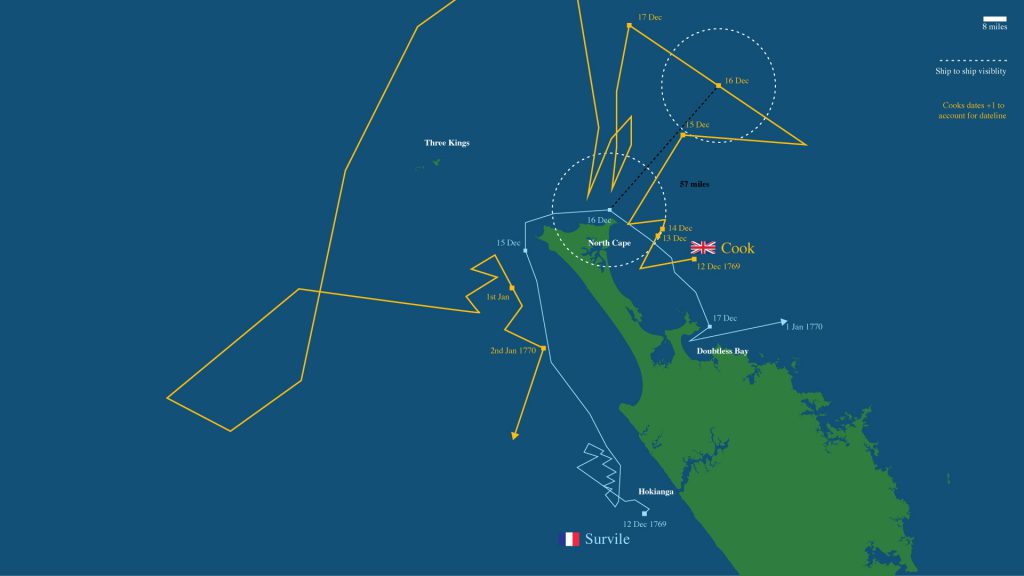 Cook coming up from the south on 10 December, before Endeavour was driven out of sight of land by the same westerly gale, had first sighted the North Island's northeastern point but was only to name it 'North Cape' after getting close enough to describe and fix its position on Tuesday 19 December. Therefore the name 'Cape Surville' preceded 'North Cape'.
However, the 'cape' the French could see as they approached from the west, though part of the same landform, the northeastern extremity of the Aupouri Peninsula, was strictly speaking a different feature to the one Cook had sighted. Cook's original 'North Cape' was located some 4 kilometres to the southeast of 'Cap Surville' and was called by the Māori Ōtau. It was a feature later noted by all the St Jean Baptiste officers: 'To the east of this cape [Surville] is a point and near it a reef is visible jutting out a little into the sea.'[iv] Nowadays while the whole northeastern landform is known as 'North Cape', arguably it could be called Cape Surville. Seeking a solution to this 'North Cape problem' in 1965 the New Zealand Geographic Board named the northernmost part 'Surville Cliffs'.
As St Jean Baptiste was bearing up on 'Cape Surville', Cook's Endeavour was not far away. The two ships were about to pass. But how close did they come? Recent accounts of this episode have the two ships passing each other in a "howling gale". Geoffrey Blainey even suggested that despite it being "such a stormy day" the ships were so close that had they had men aloft at the masthead, the two ships might have seen one another.[v] This is certainly an appealing scenario — but sadly it's not true.
Part of the confusion about the ships' positions that day seems to have arisen because Surville's and Cook's daily journal entries were being recorded as being one day apart. Surville, having sailed eastward from India, was on the correct date, Saturday 16 December. Cook, having sailed westward more than halfway round the globe, was still on the previous date, not having corrected to 'leap' a day after crossing 180° longitude (the future International Dateline), as the modern traveller must do. Instead Cook continued to record his longitude as west of Greenwich rather than east, correcting this only when he was approaching the English Channel. An added complexity was that there were normally two dates kept at sea in those times: the normal civil date, which began at midnight, and the nautical date, or ship date, which began at noon, twelve hours before the civil date. Like Cook, Surville began his ship date at noon. Therefore there was a difference of 24 hours between the journals of Surville and Cook in both the civil dates and the ship dates. Not surprisingly, tracking and synchronising the courses of the two ships through space and time can be tricky.
Confusion about the date may also explain the widespread misunderstanding among historians about the weather. Despite gale conditions over the preceding days, conditions were fine and steadily improving during the forenoon of Saturday, 16 December, with the excellent visibility normally associated with the southerly breezes that precede an approaching high pressure system.
Surville reported his noon position as "34° 22' South", and from visual bearings estimated he was some "8 leagues" [24 nautical miles] to the west of 'Cap Surville'". He noted, "very fine weather and once we had turned Tasman's NW Cape the sea became very smooth. At 2.30 approaching Cap Surville there were wind gusts [vint de rafales] from above the mountains as we were sailing very close to land". Pottier de L'Horme recorded, "Very fine weather, calm sea, fresh breeze, all sails set until 2.30 in the afternoon, when we lowered the topsails to half-mast".
For his part after recording the gale force winds of the previous day Cook reported, "At noon, we were in the Latitude of 34°10' south and Longd 185°45' west, and by estimation about 11 leagues [33 miles] from the land nothwithstanding we use'd our utmost endeavours to keep in with it". In the afternoon Cook reported, "Fresh breezes between SBW [south by west] and SW [southwest], Clear weather with a swell from the westward".
So no "howling gale" and no "stormy day". And, when Surville in a fresh southwesterly breeze, with the odd gust coming off the land, was rounding North Cape at about 3:30 pm that afternoon at a distance of just over half a league (less than two nautical miles), Cook was well off to the northeast. At that time the distance between the two ships, their closest point, would be approximately 30 nautical miles.
Visibility of a tall ship from the masthead of another "hull down" (that is, only sails visible) is reckoned to be 20 nautical miles. Therefore, despite fine weather and excellent visibility there was no possibility that the two ships ever were in visual range. However, had Surville rounded the evening of the next day as Endeavour was bearing up on North Cape, it would have made for one of the most dramatic encounters in the annals of seafaring. The history of New Zealand would have most certainly been different. But St Jean Baptiste, having doubled both "Cap Surville" and North Cape, hurried south.
Epilogue
Surville stayed from 17 to 31 December in the large harbour that Cook only a few days previously had sailed past and called 'Doubtless Bay' but which Surville called 'Baie de Lauriston'. Here his scurvy-wracked crew were able to recover somewhat after gathering anti-scorbutic plants which they consumed along with fresh fish traded from the local Ngāti Kahu people.  Surville and his officers charted the bay and recorded their observations of the land and the people. Unlike Cook's first encounters in New Zealand, relationships with Māori were peaceable – until the last day when Surville angered by the theft of his precious yawl, kidnapped a local chief, called Ranginui.[vi] The yawl had been washed up on a nearby beach after being swept away in a violent storm (which Cook still in the area described as a "meer hurricane") in which Surville lost his three main anchors while desperately fighting to save his ship from being driven onto the rocks.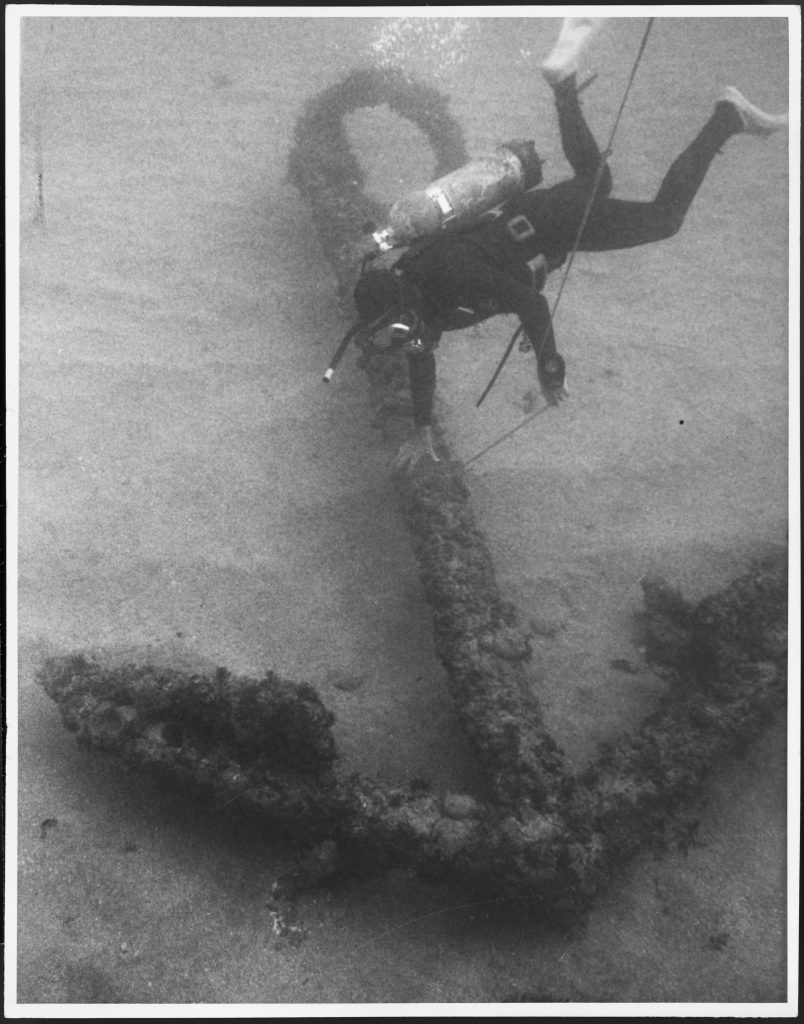 He sailed that night, 31 December 1769, and after a 94-day, 6000 nautical mile crossing of the South Pacific arrived off Chilca, Peru on 7 April 1770.  By then the scurvy which had been checked during the two weeks in New Zealand had again become rampant with men dying every other day, including the kidnapped Māori, Ranginui. Rather than waiting to reach the port of Callao only 36 nautical miles away, on 8 April Surville decided to attempt a dangerous open beach landing to seek assistance from the village of Chilca.  His flimsy skiff capsized in the surf and he and two of his sailors were drowned. The officers and crew in shock and mourning reached Callao where the ship and its luxury cargo was impounded for two years by suspicious Spanish authorities.  The Spaniards had every right to be suspicious as among Surville's private papers, read then torn to pieces and hurredly burnt by his shocked second-in-command and successor Labé, were plans to sell the luxury cargo in Acapulco for Spanish silver. Such trading was highly illegal and dealt with severely. An English captain caught at it famously had had an ear cut off, leading to the 'War of Jenkins' Ear' (1739-1748) between England and Spain. (The ear was tabled in Parliament).  So it appears the secret 'Davis Land' mission may well have been a cunningly contrived cover story beneath a cover story.
Surville's visit to New Zealand was for those violent times for the most part a carefully managed success, in which no blood was shed – noone killed or injured. No doubt it would have been remembered as such but for that last bad day.
Surville's greatest achievement, though, somewhat ironically given his commercial purpose, lay in the field of navigation and discovery: helping find the 'lost' Solomon Islands, achieving the first recorded crossing of the Coral Sea and the first west-to-east voyage across the South Pacific – for most part between the latitudes 35°S to 45°S.
In April 1775 the French navigator Julien Crozet who had visited New Zealand with the ill-fated Marion du Fresne in 1772 met Captain Cook at Cape Town. Cook, who was then homeward bound from his second Pacific voyage, invited the Frenchman to dine with him aboard Resolution.
From Crozet, Cook first learned the details of Surville's and Marion Dufresne's expeditions to New Zealand, and of Marion's brutal death. At some stage, probably after dinner when the port was being passed around, Crozet unrolled a chart detailing Marion's discoveries in the Southern Ocean and details of Surville's 1769-1770 Pacific voyage. Cook was amazed to learn that the Endeavour and St Jean Baptiste must have passed each other off northern New Zealand. Cook commented:
These voyages of the French though undertaken by private adventurers have contributed something towards the exploration of the Southern Ocean. That of Captain Surville clears up a mistake which I was led into, in imagining the shoals off the west end of New Caledonia to extend to the west as far as New Holland; it proves there is an open sea in that space and that we saw the N.W. extremity of that country.
For this reason Blainey suggested that the wider Coral Sea, "the entire sweep", should rightly be called "the Sea of Surville."
Cook, in his second voyage of 1772 to 1775, sailed through the highest latitudes of the Southern Ocean in both the Indian and Pacific quadrants, crossing the Antarctic circle twice, pushing his ships and men to the limit, venturing in his own words '…further than any other man has been before me, but as far as I think possible for man to go…'. For this he is recognised as finally laying to rest the myth of the Great Southern Continent. However, in terms of disproving the existence of a continent in the habitable latitudes of the South Pacific, 'east of the East Indies and west of Peru', credit should also go to the enigmatic Jean-François-Marie de Surville. The people of different races, religions and creeds who arrived off New Zealand in St Jean Baptiste250 years ago, were a forerunner of the diverse New Zealand of today. These seafarers should be remembered with respect by a seafaring nation.
Michael Lee
Extracted from my book Navigators & Naturalists – French exploration of New Zealand 1769-1824. Bateman Books. Auckland. 2018. Versions of this article were published in Cook's Log Vol 41, no 4. 2018, & Waiheke Weekender, 19 December 2019,

---