ANZAC Day in a time of war
Dawn service address at the Waiheke War Memorial.
Mike Lee.
We gather here and all across New Zealand on this ANZAC Day morning – as our parents did, and their parents before them, to keep vigil and bear witness to the fallen and to honour their great sacrifice. This is the 106th ANZAC Day which was inaugurated in 1916 in New Zealand and Australia to commemorate the landing of ANZAC forces at Gallipoli on this morning in 1915.
We are now deep within the 21st century – a strange uncertain time.
The post 2018 ANZAC Days. when we last commemorated the centenary of the of the Great War, bear testament to that.
In 2019, in the wake of the Christchurch Mosque massacre ANZAC Day services in New Zealand were guarded by police officers with automatic rifles – even here at Ostend.
The following year, 2020, we remember ANZAC Day for the first time ever was cancelled because of the Covid 19 global pandemic.
And this year we gather in a time of war, not the forever brushfire conflicts we have grown used to, but a war in Eastern Europe, the birth place of World Wars, and a war directly involving a major nuclear power – and indirectly involving the other major nuclear power – a war which could, by any miscalculation easily escalate into a Third World War.
In the July days of 1914 the assassination of an Austrian ArchDuke at Sarajevo quickly led to war between the Austro-Hungarian Empire and Serbia, and spiralled out of control, dragging one-by-one all the Great Powers of Europe into the catastrophe, sucking in people from all over the world, not the least New Zealand – even people here on Waiheke – people who had no stake whatsoever in the bitter quarrels of Europe.
Again in 1939 we remember it was a dispute between Germany and Poland over the Danzig corridor that triggered the Second World War.
We can only hope and pray that the war in Ukraine does not escalate to a Third World War, a nuclear war, as we hope and pray the present generation of world leaders, all of whom are fortunate not to have experienced the horror of war themselves, can make peace before events spiral out of control.
To remind us how such far away events can cause such grief and sorrow – enduring sorrow – even here on Waiheke I commend the article by Paul Mitchell, in the latest issue of the Weekender.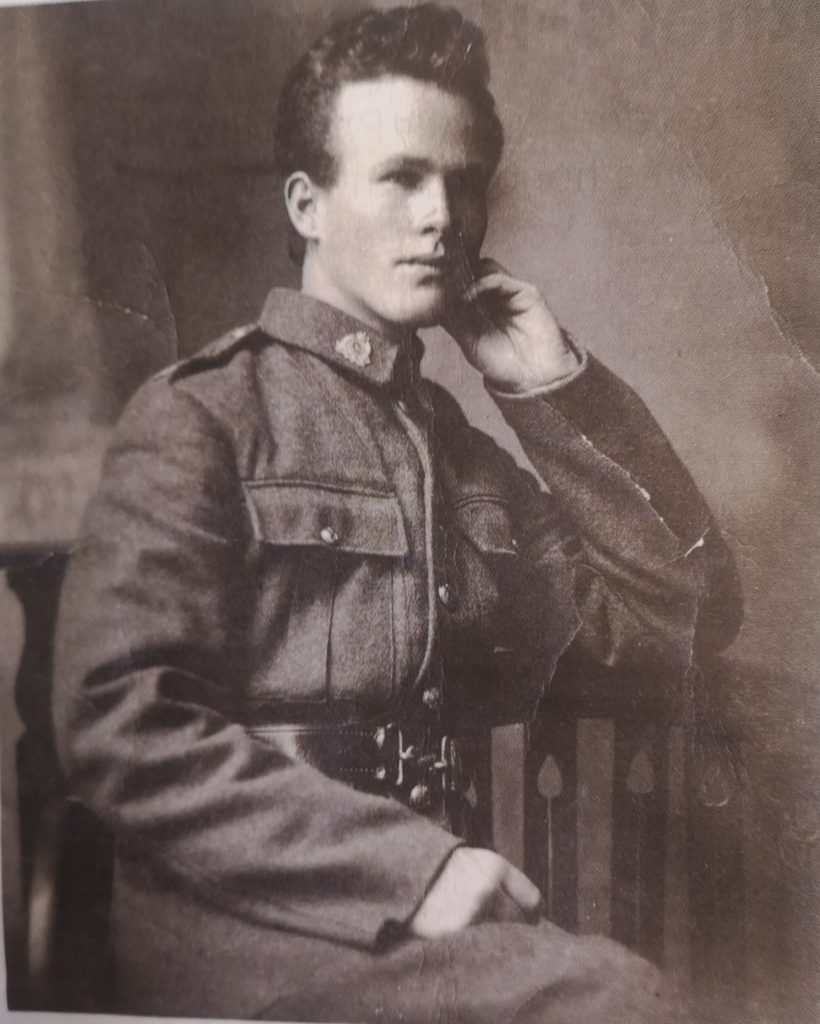 In 1914, though the population of Waiheke barely numbered a hundred, several young men, mainly farm boys from the eastern end, accepted the call and went off to war. Two of them, exemplary young men, Martin Pegler farmer of Cowes Bay and William Voysey a school teacher from Te Matuku, were killed in action in France in the crucial battles of 1918, in which the New Zealand Division played such a decisive role – leaving their grief-stricken families to mourn them forever after.
They were just two of the 18,100 killed and 41,000 other casualties New Zealand suffered during that War.
So we gather once again in the pre-dawn darkness of an Autumn morning, as is our custom, as always under the leadership of the RSA, to keep faith with the the fallen, and the sacrifices of our ancestors. I sometimes think if those young men could see us gathered here and all across New Zealand. I'm sure they would be comforted that they had not been forgotten.
They would be even more comforted I am certain, if we, the people of the 21st century did not forget the lessons of 1914 and the chain of events that spun out of control, that led on to the appalling catastrophe that was the Great War.
Our RSA president Bill Howling reminds us that these New Zealand servicemen and women whose names are on our war memorial, on the walls of the Auckland War Memorial Museum and on cenotaphs across the country are symbols of duty, bravery and sacrifice but that they were also real and ordinary people who, as he says, are owed a debt that can be repaid by making the most of peace and doing our part to help prevent anyone being asked to make the same sacrifices needlessly.
In more recent times, until the early 1990s there were two Great War veterans, that people of my age can recall, who lived in our Waiheke community. On the face of it they were ordinary people, elderly gentlemen whom you might see at the shop or catching the ferry, Jim Barnard and Tony Fagan. Mr Fagan of Oneroa was a friend of the Waters family and was interviewed by Liz Waters for the Gulf News in 1979. 107 years ago this morning was Mr Fagan's baptism of fire when he stormed ashore at ANZAC Cove, Gallipoli.
700 NZers were killed or wounded that day. When the veterans came home they never talked about the War and what they had been through. Their families, they felt, would not understand. Then in the 1980s, not long before they died, twelve NZ Gallipoli veterans were interviewed for a Television NZ documentary and told their stories – most of them for the very first time. One of those was Tony Fagan. Tony enlisted at the start of the War and served in the Auckland Infantry Regiment. On the 3rd day at Gallipoli he was badly wounded and taken back to Egypt. When he recovered he asked to go back to Gallipoli to rejoin his mates. Later he went on to fight on the Western Front in Belgium and France. Tony Fagan's recollections and views on Gallipoli and the Great War were similar to the other veterans interviewed.
Mr Fagan's final words summed up his feelings:
'Yes I still think of Gallipoli. You may well ask if any war is worth it. You may well ask those lines of white crosses under which are buried the finest young fellows New Zealand could produce. Was it worth it? Was it worth your lives? No. No. It was not.'
Historians point out that the nation's collective and personal sacrifices of the Great War and the remarkable performance of its armed forces, led to the forging of a distinct New Zealand national identity. An identity, the pride in which inspired and helped build the nation during the 20th century. It is something that has unfortunately come under challenge in recent times. I am sure that those gathered here today would agree with me, when I say, New Zealand's national identity should not be marginalized or forgotten – the cost our ancestors paid, beginning 107 years ago this morning – was too high a price for that.
Lest we forget.